Gharieni company profile
A short introduction
30 years of innovation, and German engineering, are the cornerstones of the Gharieni Group's premium global brand – known for its Mind/Body Verified Wellness Technologies – and the highest quality Medical, Spa, and Wellness equipment.
Today, Gharieni is positioned as one of the most innovative players in the Wellness industry – creating unparalleled guest experiences for the most discerning Wellness seeker, globally. Present in more than 120 countries worldwide, we count, as our clients, some of the most prestigious names in the luxury hospitality, medical wellness, resorts, residential and other well-being environments.
Our sustained, dynamic, and exponential growth continues to fuel our expansion, internationally. We are proud of the many awards, and prizes, we have won – and look forward to the continuing development of our business into the Experience and Transformation economies.
The 4 main business units
Spa, Beauty & Wellness
Our Spa and Wellness department offers more than just a wide range of treatment tables and furniture. Perfectly thought-out solutions for spa equipment, combined with "signature treatments", trainings and accessories provide sophisticated spa concepts to create completely new spa experiences.
Medical, Feet & Care
Our "Medical, Feet & Care" department focuses on the development of sophisticated treatment tables and furniture for medicine, podology and aesthetic surgeries. An extensive range of accessories including treatment units, steamers and more is available.
Gharieni furniture series
Gharieni furniture is designed to meet the highest standards of quality and offers the best functionality for your treatment room. Practicality, efficiency and space-saving ideas inspire our furniture design and development.
Accessoires
A complement to our other products, we offer a full range of accessories that will benefit and assist your practitioners in their daily work routine.
Gharieni celebrated its 25 anniversary in 2016
Trend setting innovations, luxurious designs and best quality for spa, beauty and wellness is Gharieni. Taking Wellness to the next level.
1992 until now – A success story
What began as a purely commercial enterprise under the banner of "Electro-Medical Gharieni" with one product led to the request for a dialysis bed "made by Gharieni" which then morphed into medical grade manufacturing. Initially offering a range of treatment tables for aesthetic surgery, medical practices, as well as physiotherapy and podiatry was the foundation for what the Gharieni Group has become today. Building upon that, year after year, has allowed the Gharieni Group to diversify into new treatment equipment with a focus on providing cutting edge and modern designs for an ever growing clientele.
Expanding into New Markets
The emergent wellness and beauty market in the past decade motivated our design team to challenge itself to conceive and fabricate a first innovative wellness and treatment table, the MLW Classic, which has since become a quality standard bearer of the industry. This initial foray has fueled great expansion since then and today, we offer a wide array of wellness tables that always integrate quality and functionality while highlighting unique designs.
Global presence
Increasing demand of our unparalleled products has led to a significant global expansion with the addition of offices in the USA, Dubai, Netherlands and France. In Germany, we have also expanded to Ettlingen in southern Germany. In addition we have a far reaching network of sales partners throughout Europe to provide exceptional service and advice.
As a participant and often sponsor in major international trade shows and spa events held on the national and international levels allows us direct access and exposure to new trends and products and is an integral part of our global marketing campaigns.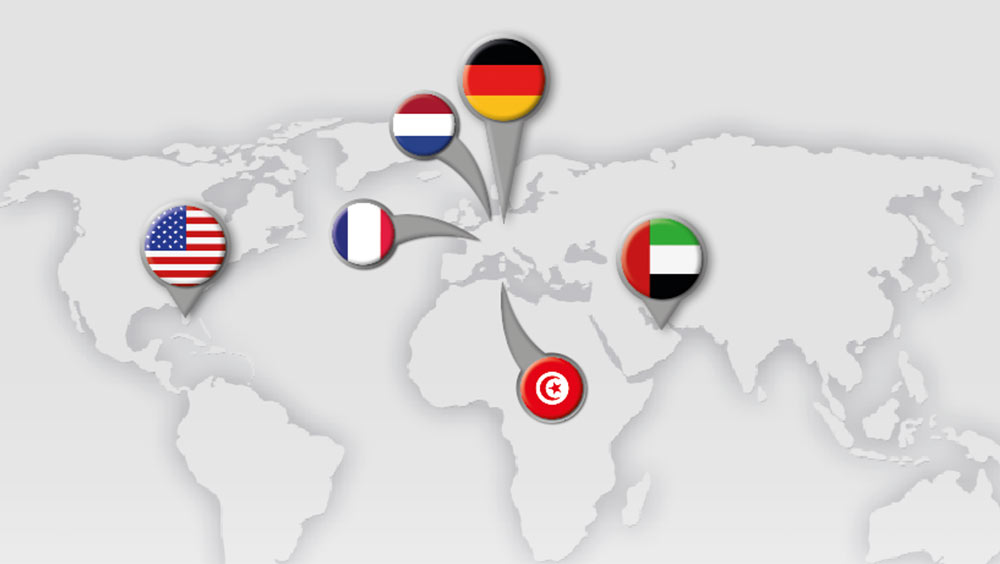 Unbeatable wellness-concepts
Since 2010, our team of experts has been developing complete wellness concepts for our treatment tables and equipment to integrate complementary accessories and treatment modalities. The launch of our MLX Quartz bed, also known as the Psammo-concept, has met with astonishing success and has truly heralded a global spa trend. Another milestone we achieved was the introduction of our HydroSpa collection featuring Corian® for a waterproof and seamless surface and selected water choreographies. Our Libra and Pedi Spa collections have garnered significant attention and are recognized as truly pioneering in hydrotherapy treatments.
Gharieni today
Today, the Gharieni Group enjoys a stellar international reputation and its products are appreciated and lauded not only by luxury hotels and spas worldwide but also our clients in the aesthetic clinics and medical facilities. This continually motivates us to continue to produce and craft the best and unsurpassed products in all these sectors.